Updated October 1, 2003
Tribute to Garrett Hardin
By John Rohe, October 1, 2003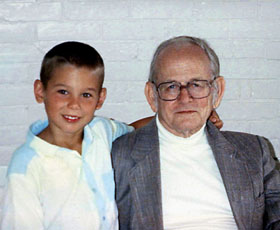 This photograph of Dr. Hardin and my son, Karl, was taken in Petoskey, Michigan on July 21, 1991. They had just finished breakfast. Separated by 67 years, Dr. Hardin held this generation, and and its successors, in his heart.
He must have been the most compassionate, and misunderstood, writer of our time.
He whimsically quipped "And then what?" in giving us Hardin's Law,
He challenged the unexamined conventional wisdom with integrity,
His messages were delivered with brevity and clarity,
His concerns for humankind will gain momentum with every passing generation,
He taught us to live within respectable limits and to die with dignity,
We mourn death when it is met on death's terms. Death, however, met Jane and Garrett on their terms. They will be deeply missed and long remembered.

John F. Rohe, a founding member of The Garrett Hardin Society